Browsing through
my TBR
is an overwhelming task at the moment; there are so many fantastic new releases coming out in 2016 that I'm a little nervous the older ones won't get enough love! Nevertheless, I've chosen eleven books to share with you all that I'm definitely planning to read.
New Series
(and a standalone)
Passenger
(Passenger, #1)
by Alexandra Bracken
Release date:
January 5th, 2016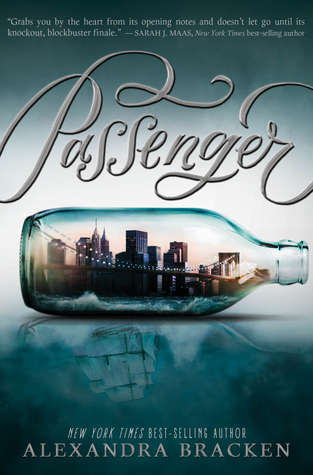 Synopsis:
In one devastating night, violin prodigy Etta Spencer loses everything she knows and loves. Thrust into an unfamiliar world by a stranger with a dangerous agenda, Etta is certain of only one thing: she has traveled not just miles but years from home. And she's inherited a legacy she knows nothing about from a family whose existence she's never heard of. Until now.
Nicholas Carter is content with his life at sea, free from the Ironwoods—a powerful family in the colonies—and the servitude he's known at their hands. But with the arrival of an unusual passenger on his ship comes the insistent pull of the past that he can't escape and the family that won't let him go so easily. Now the Ironwoods are searching for a stolen object of untold value, one they believe only Etta, Nicholas' passenger, can find. In order to protect her, he must ensure she brings it back to them— whether she wants to or not.
Together, Etta and Nicholas embark on a perilous journey across centuries and continents, piecing together clues left behind by the traveler who will do anything to keep the object out of the Ironwoods' grasp. But as they get closer to the truth of their search, and the deadly game the Ironwoods are play­ing, treacherous forces threaten to sep­arate Etta not only from Nicholas but from her path home
While I haven't read anything by Alexandra Bracken yet, this book
seems vaguely similar to
A Thousand Pieces of You
, so hopefully it'll be a a smooth transition into her writing. There's been a lot of hype surrounding
Passenger
and I'm interested to see if it lives up!
These Vicious Masks (These Vicious Masks, #1) by Tarun Sanker
Release date:
February 9th, 2016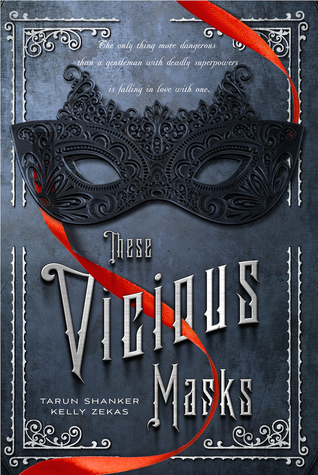 Synopsis:
Jane Austen meets X-­Men in this gripping and adventure-­filled paranormal romance set in Victorian London.
England, 1882. Evelyn is bored with society and its expectations. So when her beloved sister, Rose, mysteriously vanishes, she ignores her parents and travels to London to find her, accompanied by the dashing Mr. Kent. But they're not the only ones looking for Rose. The reclusive, young gentleman Sebastian Braddock is also searching for her, claiming that both sisters have special healing powers. Evelyn is convinced that Sebastian must be mad, until she discovers that his strange tales of extraordinary people are true—and that her sister is in graver danger than she feared.
"Jane Austen meets X-Men"..."
JANE AUSTEN MEETS X-MEN"
...need I say more?
The Crown's Game (
The Crown's Game, #1)
by Evelyn Skye
Release date:
May 17th, 2016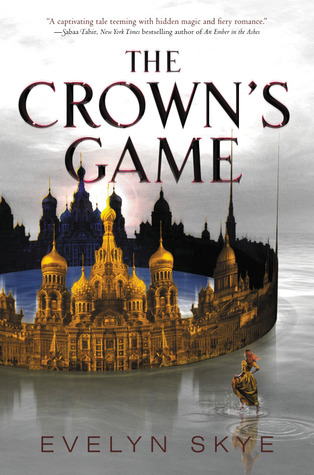 Synopsis:
Vika Andreyeva can summon the snow and turn ash into gold. Nikolai Karimov can see through walls and conjure bridges out of thin air. They are enchanters—the only two in Russia—and with the Ottoman Empire and the Kazakhs threatening, the Tsar needs a powerful enchanter by his side.
And so he initiates the Crown's Game, an ancient duel of magical skill—the greatest test an enchanter will ever know. The victor becomes the Imperial Enchanter and the Tsar's most respected adviser. The defeated is sentenced to death.
Raised on tiny Ovchinin Island her whole life, Vika is eager for the chance to show off her talent in the grand capital of Saint Petersburg. But can she kill another enchanter—even when his magic calls to her like nothing else ever has?
For Nikolai, an orphan, the Crown's Game is the chance of a lifetime. But his deadly opponent is a force to be reckoned with—beautiful, whip smart, imaginative—and he can't stop thinking about her.
And when Pasha, Nikolai's best friend and heir to the throne, also starts to fall for the mysterious enchantress, Nikolai must defeat the girl they both love . . . or be killed himself.
This seems like a mix between Shadow and Bone
and Throne of Glass, so I'm already intrigued. Based on the synopsis, I don't expect it to be extremely complex in terms of fantasy world building, but I think The Crown's Game has a lot of potential to be an exciting, fast paced read.
This Savage Song
(Monsters of Verity, #1)
by Victoria Schwab
Release date:
June 7th, 2016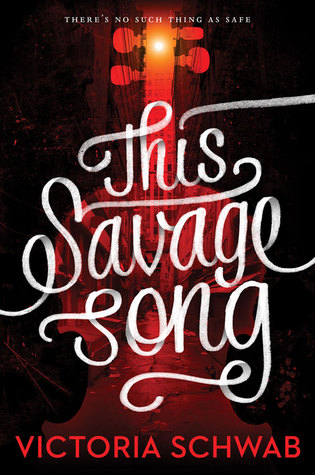 Synopsis:
The city of Verity has been overrun with monsters, born from the worst of human evil. In North Verity, the Corsai and the Malchai run free. Under the rule of Callum Harker, the monsters kill any human who has not paid for protection. In the South, Henry Flynn hunts the monsters who cross the border into his territory, aided by the most dangerous and darkest monsters of them all—the Sunai, dark creatures who use music to steal their victim's souls.
As one of only three Sunai in existence, August Flynn has always wanted to play a bigger role in the war between the north and the south. When the chance arises to keep an eye on Kate Harker, daughter of the leader of North Verity, August jumps on it.
When Kate discovers August's secret, the pair find themselves running for their lives and battling monsters from both sides of the wall. As the city dissolves into chaos, it's up to them to foster a peace between monsters and humans.
For starters, the premise of this book seems out of this world: "dark creatures who use music to steal their victim's souls"? I'm in. I haven't read any of Schwab's YA books, but I absolutely loved Vicious
and A Darker Shade of Magic
, so I'm sure I'll enjoy this one too.
Untitled Standalone by Stephanie Perkins
Release date:
2016 (month/day TBA)
Synopsis:
A YA horror novel in the vein of the movie Scream in which a cadre of high school students are being stalked and attacked by a mysterious killer with no obvious motive.
Considering how fluffy and adorable Anna and the French Kiss
was, I'm very curious of what a Stephanie Perkins horror novel will be like...
Sequels and Prequels
Stars Above
(The Lunar Chronicles 0.5, 0.6, 1.5, 3.1, 3.6) by Marissa Meyer
Release date:
February 2nd, 2016
Synopsis:
The universe of the Lunar Chronicles holds stories—and secrets—that are wondrous, vicious, and romantic. How did Cinder first arrive in New Beijing? How did the brooding soldier Wolf transform from young man to killer? When did Princess Winter and the palace guard Jacin realize their destinies?
With nine stories—
five
of which have never before been published—and an exclusive never-before-seen excerpt from Marissa Meyer's upcoming novel,
Heartless
, about the Queen of Hearts from Alice in Wonderland, Stars Above is essential for fans of the bestselling and beloved Lunar Chronicles.
I've already read three of the novellas in Stars Above, but considering it features an epilogue for
Winter
where "
friends gather for the wedding of the century

(!!!!!!!)
",
my inner fangirl is giddy for this release!
A Gathering of Shadows
(A Darker Shade of Magic, #2)
by V.E. Schwab
Release date:
February 26th, 2016
Synopsis (Warning: Spoilers for Book 1):
Four months have passed since the shadow stone fell into Kell's possession. Four months since his path crossed with Delilah Bard. Four months since Rhy was wounded and the Dane twins fell, and the stone was cast with Holland's dying body through the rift, and into Black London.
In many ways, things have almost returned to normal, though Rhy is more sober, and Kell is now plagued by his guilt. Restless, and having given up smuggling, Kell is visited by dreams of ominous magical events, waking only to think of Lila, who disappeared from the docks like she always meant to do. As Red London finalizes preparations for the Element Games—an extravagant international competition of magic, meant to entertain and keep healthy the ties between neighboring countries—a certain pirate ship draws closer, carrying old friends back into port.
But while Red London is caught up in the pageantry and thrills of the Games, another London is coming back to life, and those who were thought to be forever gone have returned. After all, a shadow that was gone in the night reappears in the morning, and so it seems Black London has risen again—meaning that another London must fall.
It seems like A Gathering of Shadows will go in a different direction from A Darker Shade of Magic, so I'm excited to see where it will take us! I'm also interested to see what The Element Games will be like; will they be more like the Olympics or the Hunger Games?


The Winner's Kiss (The Winner's trilogy, #3) by Marie Rutkoski

Release date: March 29th, 2016
Synopsis (Warning: Spoilers for Books 1 and 2):
War has begun. Arin is in the thick of it, with the East as his ally and the empire as his enemy. He's finally managed to dismiss the memory of Kestrel, even if he can't quite forget her. Kestrel turned into someone he could no longer recognize: someone who cared more for the empire than for the lives of innocent people—and certainly more than she cared for him. At least, that's what he thinks.
But far north lies a work camp where Kestrel is a prisoner. Can she manage to escape before she loses herself? As the war intensifies, both Kestrel and Arin discover unexpected roles in battle, terrible secrets, and a fragile hope. The world is changing. The East is pitted against the West, and Kestrel and Arin are caught between. In a game like this, can anybody really win?
The Winner's Curse
(book 1 of The Winner's trilogy) was a good book overall, but it didn't blow me away. I haven't read
The Winner's Crime
yet, but I've heard it's
is better than the first one, so hopefully
The Winner's Kiss
will be the best of them all! Thankfully, I still have a few months to catch up before the Winner's trilogy comes to its conclusion.
The Last Star
(The 5th Wave, #3)
by Rick Yancey
Release date:
May 24th, 2016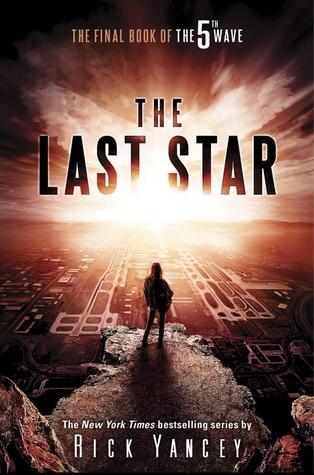 Synopsis:
We're here, then we're gone, and that was true before they came. That's always been true. The Others didn't invent death; they just perfected it. Gave death a face to put back in our face, because they knew that was the only way to crush us. It won't end on any continent or ocean, no mountain or plain, jungle or desert. It will end where it began, where it had been from the beginning, on the battlefield of the last beating human heart.
Master storyteller Rick Yancey invokes triumph, loss, and unrelenting action as the fate of the planet is decided in the conclusion to this epic series.
I was slightly disappointed with the pacing and some of the plot choices in
The Infinite Sea;
however, I love the writing style and overall premise of this series, so I'm eager to see how this trilogy will end!
Throne of Glass #5 by Sarah J. Maas
Release date:
September 6th, 2016
Synopsis:
The long path to the throne has only just begun for Aelin Galathynius. Loyalties have been broken and bought, friends have been lost and gained, and those who possess magic find themselves at odds with those don't.
As the kingdoms of Erilea fracture around her, enemies must become allies if Aelin is to keep those she loves from falling to the dark forces poised to claim her world. With war looming on all horizons, the only chance for salvation lies in a desperate quest that may mark the end of everything Aelin holds dear.
Aelin's journey from assassin to queen has entranced millions across the globe, and this fifth installment will leave fans breathless. Will Aelin succeed in keeping her world from splintering, or will it all come crashing down?
Honestly, I didn't love the most recent Throne of Glass novel
, but there's something about this series that keeps me coming back. Maybe it's the quality world building, Aelin's fierce, "take no prisioners" attitude, or a little bit of both.
Crooked Kingdom (Six of Crows, #2) by Leigh Bardugo
Release date: September 22nd, 2016
I just finished
Six of Crows
last week and I'm still slightly obsessing over it, so waiting most of the year for the next book in the series will be a struggle! Even though I had a few minor problems with it, I loved the world and its dark, twisted characters and I'm thrilled to see what will happen next.
What books are you looking forward to in the coming year? Are any of them on this list? Let me know in the comments!
Thanks for reading,
Annie
Indoor Sojourner
Twitter
·
Instagram
·
Goodreads
·
Pinterest
· Bloglovin'