I know it's been a while since I made a
Top 5 Friday
post, but I'm bringing it back today in the form of book to movie adaptations! There are plenty of great adaptations out there, but these are a few that at least fit the following criteria:
I've read the original text.
The film accurately represents the original text.
It's a quality film that can stand firm on its own.
For starters, making this list was so difficult! I wanted to add The Hunger Games, Lord of the Rings and Harry Potter, but I haven't actually read LoTR or Harry Potter (~hides from angry fangirls~). As much as I love The Hunger Games films, there's still one more to go, so it would feel slightly wrong to include any of the current films if the last one could potentially be my favorite.
Now that the flimsy excuses are over with, let's get started with the actual list!
5.
Tuck Everlasting (2002)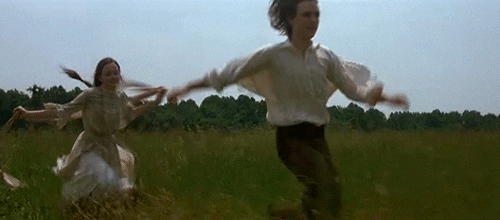 As a children's/middle grade book, this story deals with love, death and mortality in a way that's tangible for a younger audience. Even though it's not 100 percent accurate from what I can remember, the movie captures the overall essence of the book and still tugs on my heartstrings whenever I watch it.
Also, Johnathon Jackson. o___o
4.
Holes (2003)
Besides being a memorable part of my childhood, Holes was incredibly accurate to the book and is one of those movies I'll always enjoy watching. Like most children's stories, the plot itself is also pretty ridiculous, but that just makes me love it all the more.
3.
The Great Gatsby (2013)
The 1920's would have been considered modern times to the characters of The Great Gatsby, and the vibrant colors and integration of modern music captured this perfectly. The movie didn't seem like it was portraying a period in the past; it was as if the characters and setting were on the cutting edge of style, which further emphasized the parallels between the story and real life.
2.
Jane Eyre (2011)
I know I've mentioned Jane Eyre
several
times
on my blog, but I absolutely love this movie and the story as a whole. The book has a mysterious, almost ethereal mood throughout, and I think the 2011 adaptation captured this wonderfully. Even though it's not perfectly accurate to every detail, the actors portray the characters in a way the feels raw and true to the story. It also has a lovely soundtrack, so if you don't have time to watch the movie, you can check it out right here!
1.
Pride and Prejudice (2005)
Seriously, this movie is beautiful. The scenery, the soundtrack (listed below), the characters, the people playing the characters...everything about this movie simply beautiful. This movie captures the essence of Pride and Prejudice and turns it into something magical.
What are your favorite book to movie adaptations? Let me know in the comments!
Thanks for reading,
Annie
Indoor Sojourner
Twitter
·
Instagram
·
Goodreads
·
Pinterest